Reports - Create Customised Reports, Filter & Analyse Results
Reports - Create Customised Reports, Filter & Analyse Results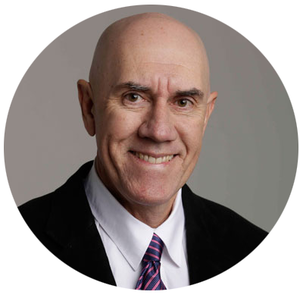 By Mark Sinclair
updated 9 months ago
By default a first report is automatically created when launching a project. You can create as many reports as you like. Reports are generated instantly and can be customised, filtered and analyzed. Reports can also be copied with a simple click.
The Report Shares feature provides an easy way to share survey results. Simply select the Report Shares menu, create a new Report Share, select the reports to include and save. Shared reports may be open to the public or they may be protected with a password or a numeric PIN code.
Click here to see a sample shared report.
The Reports Window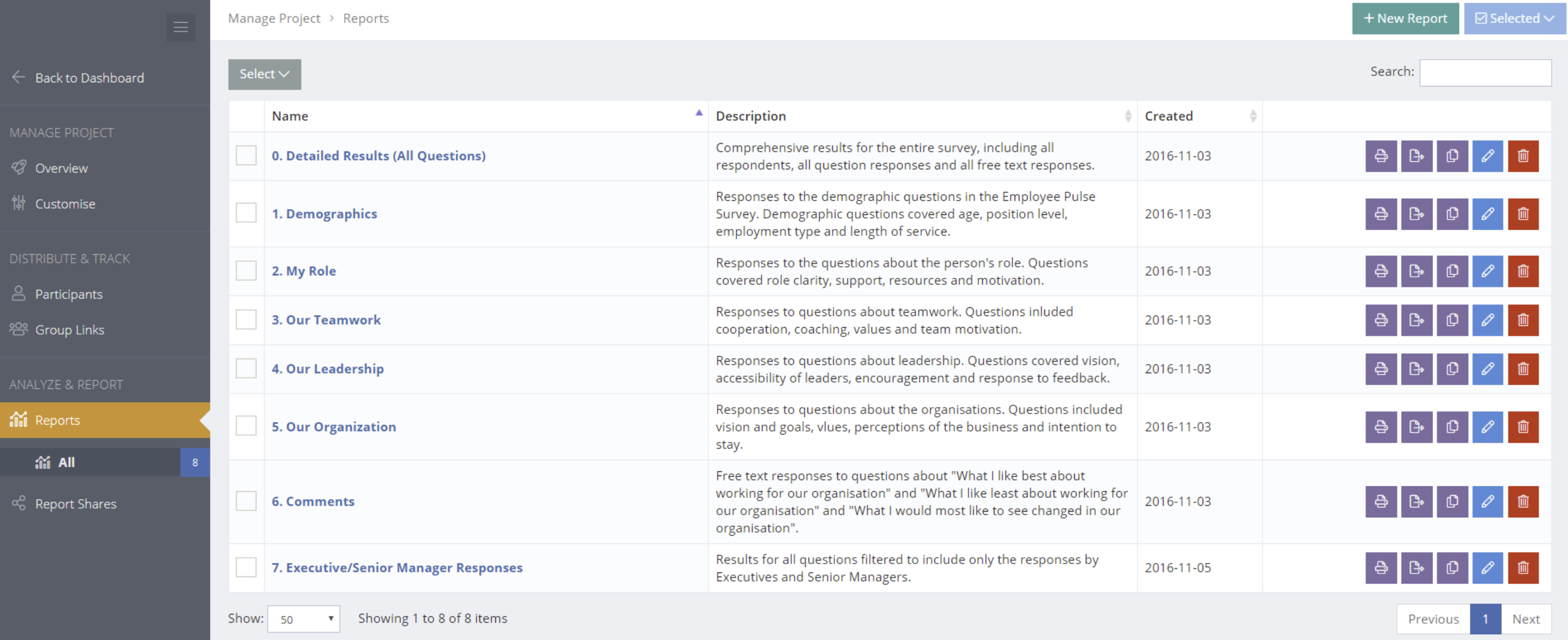 Add, Edit and Copy a Report
To create a report, go to the Reports menu and select the + New Report button in the top menu. Edit the report name and description and then click Save. After creating the report, the layout of results can be customised and the results can be filtered.
Reports can be easily copied and then edited. Click the copy button alongside, edit the name and save. All customising and filtering will be copied. Note: if you copy a report that has been shared the copy will not be visible until shared.
To delete a report, click the Delete button alongside. A "Confirm Delete" dialogue box will appear. Important Note: Deleting a report is permanent and if you have shared the report with anyone, they will no longer have access to it.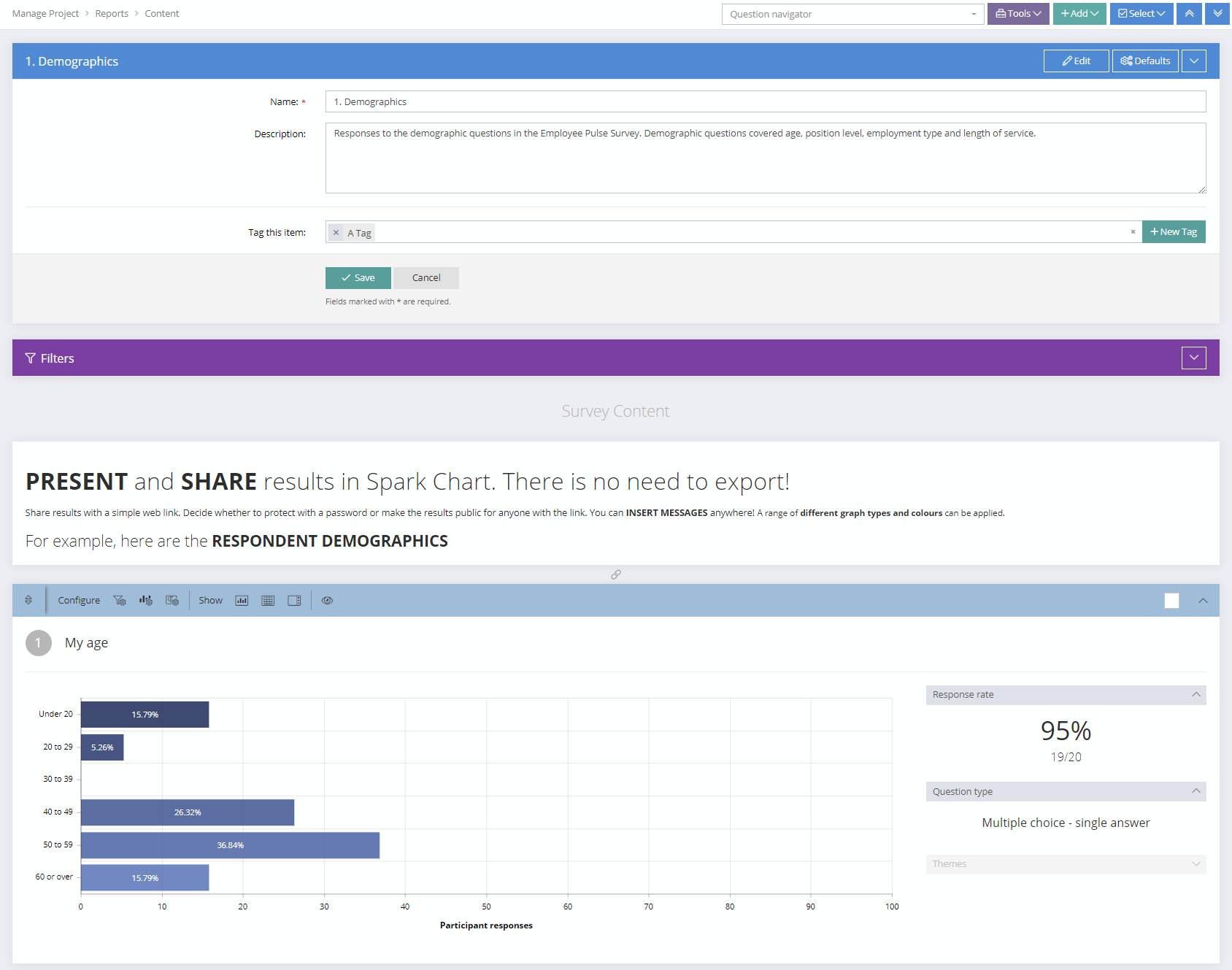 Individual Question Layouts
Individual question results have icons to configure filters, charts and attach text to the question results. There are also icons to show or hide the results for the question when sharing reports, and show or hide other elements, such as a data table, response statistics, response rate, respondent comments and additional response text.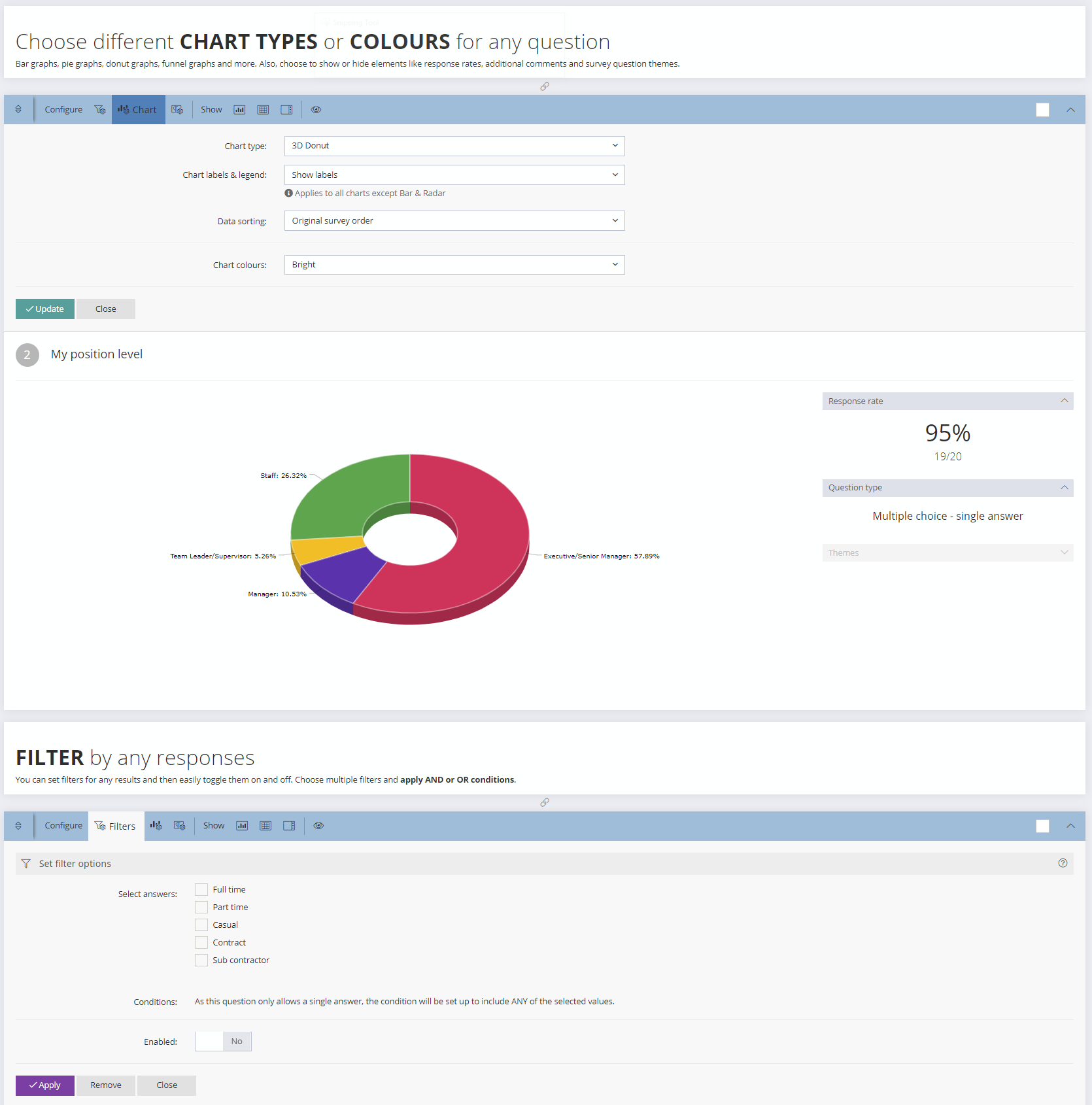 Responses to Free Text questions have options from the Configure/Display icon to show the comment date, participant name and a link to the individual participant's responses. The comment display size can be adjusted and the comments can be sorted from newest to oldest and vice versa. By default, comments are shown newest to oldest in full length and the date is shown. Names and links to results are hidden by default.

Filter Results
A report can contain all the survey results or it may contain filtered views. Additionally, reports may contain results for all participants or for selected participants or groups. Messages and recommendations can also be added to reports.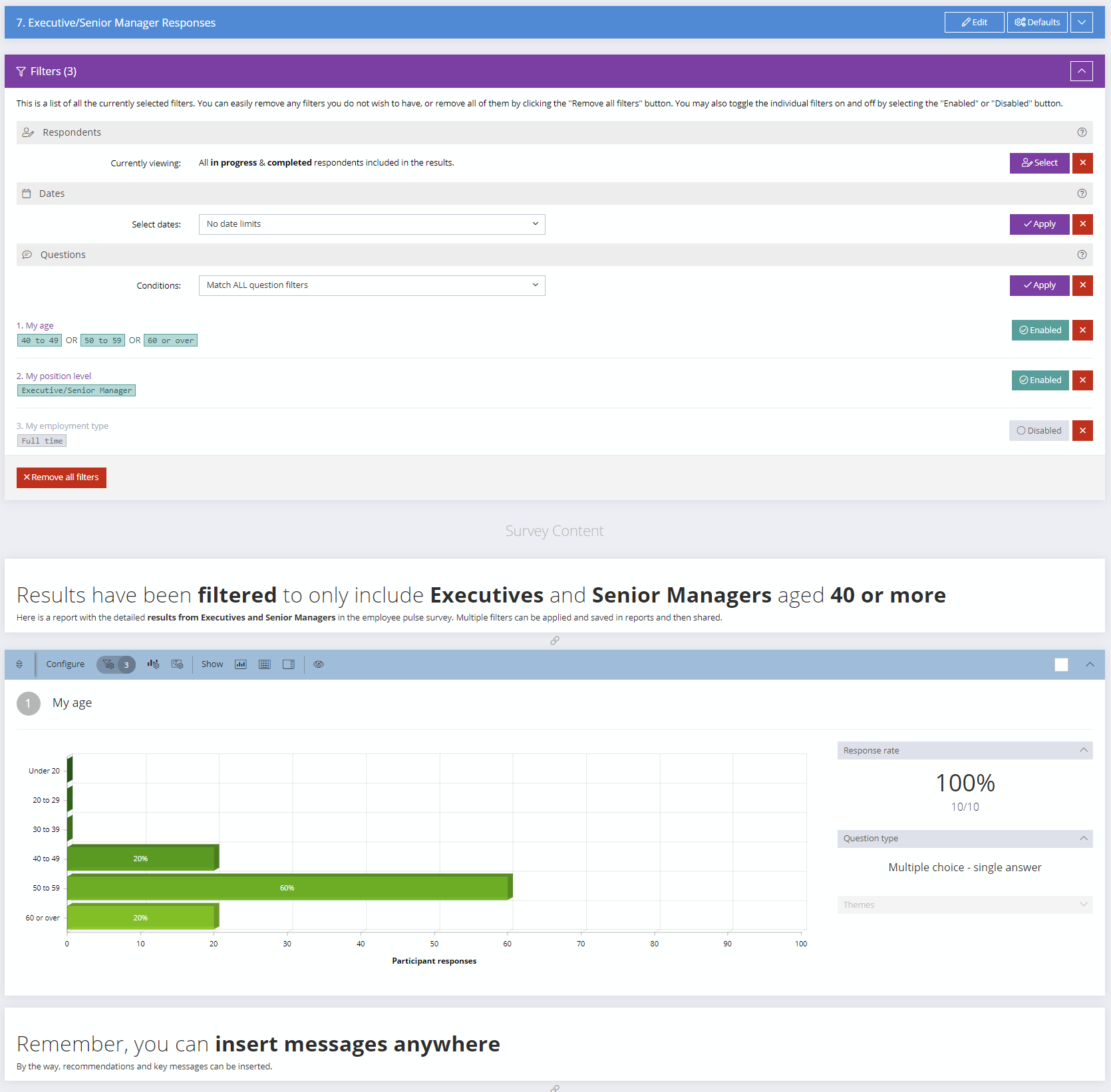 To filter results for individual survey questions, choose the Filter icon and then select the answers to include in the filter. Click Enable and Save.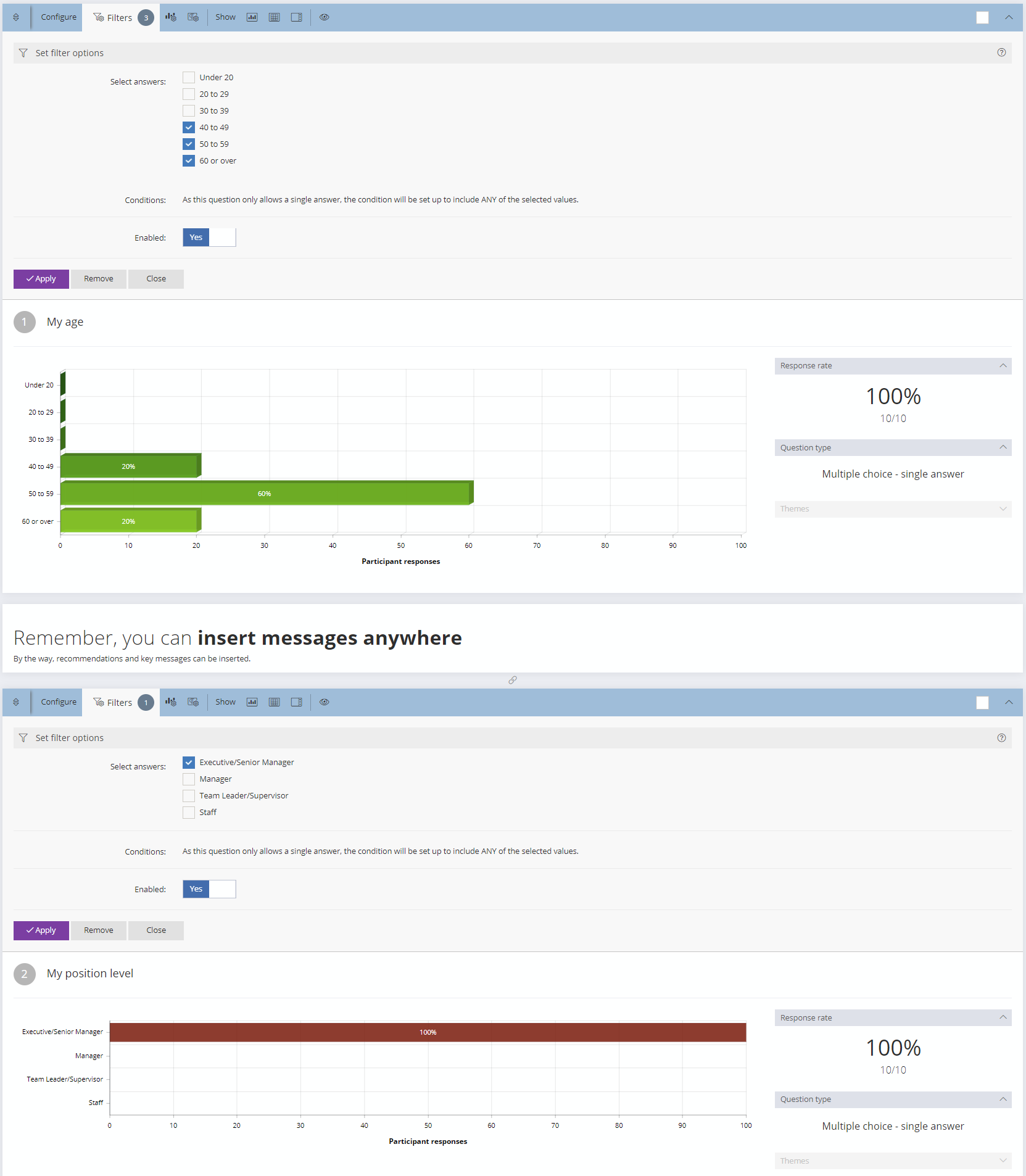 Add Compound Charts
A Compound Charts feature is available to aggregate results for selected Rating Scale questions, Answer List questions and Emoji questions. Compound Charts are created from the "Add" button at the top of reports. Statistics and Data Panel options are available for Compound Charts. Compound Charts will appear when printing reports (unless the hide option is selected). However, they are not included when exported to CSV.

Select the Compound type based on the desired question type. Then select the content scale or answer List type. The title for the compound chart can be added using rich test.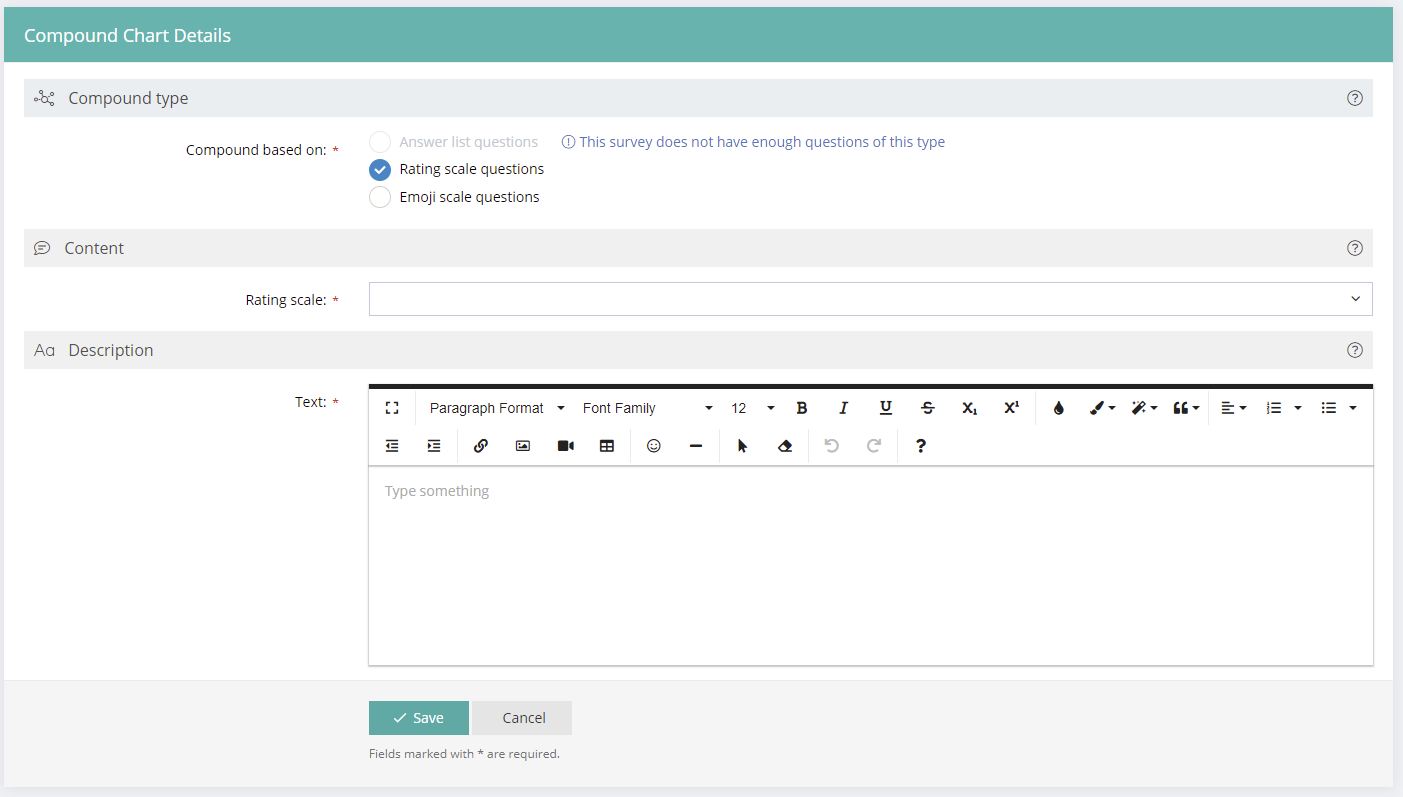 Then select the questions to be aggregated.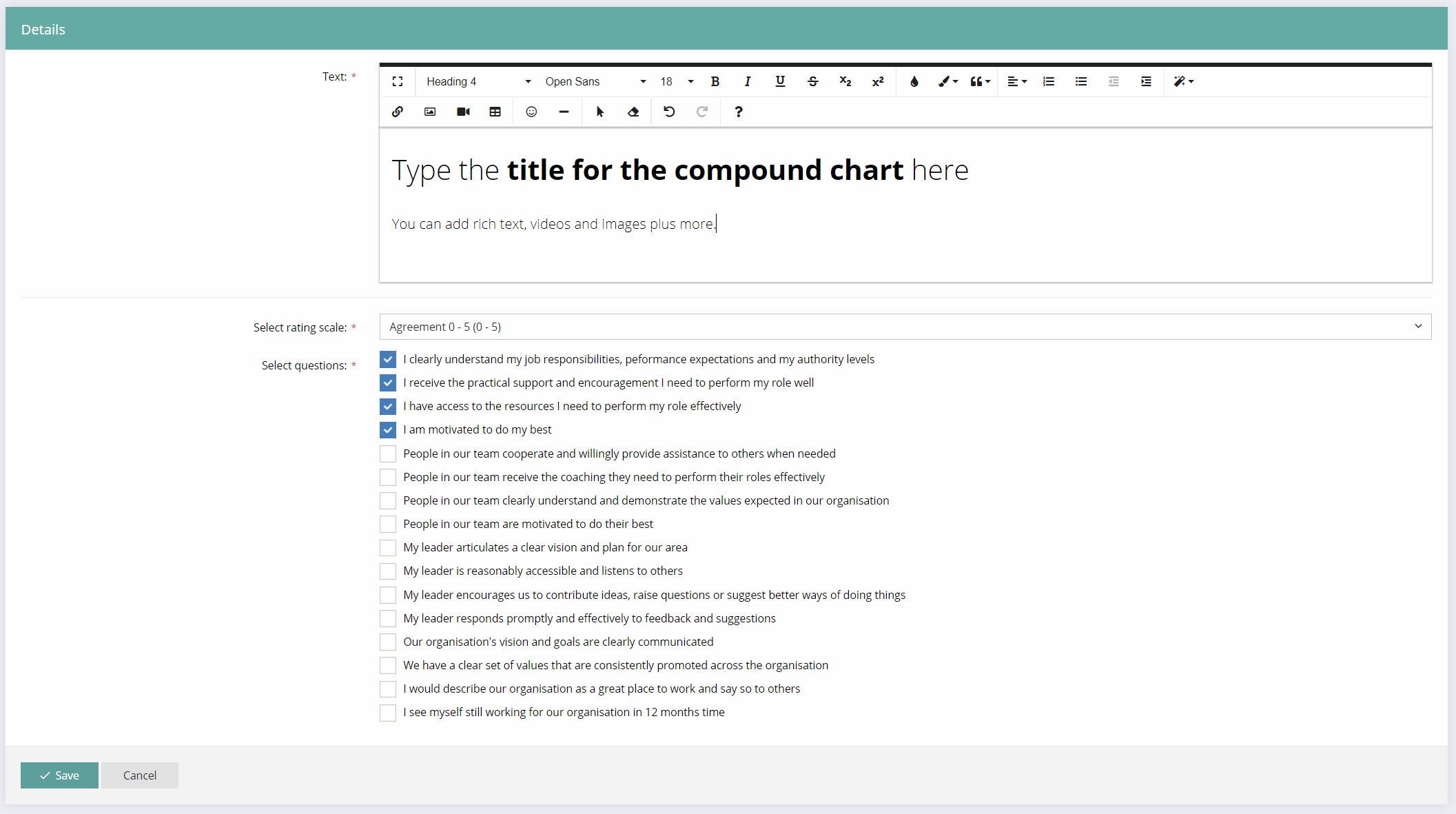 The compound chart can be dragged and dropped to the desired position in the report.

Add Text Blocks
Rich text blocks, including images, videos, tables and more can be inserted and then positioned anywhere in a report using drag and drop.



Chart Options
Chart types and colours and other options can be selected from the Chart icon.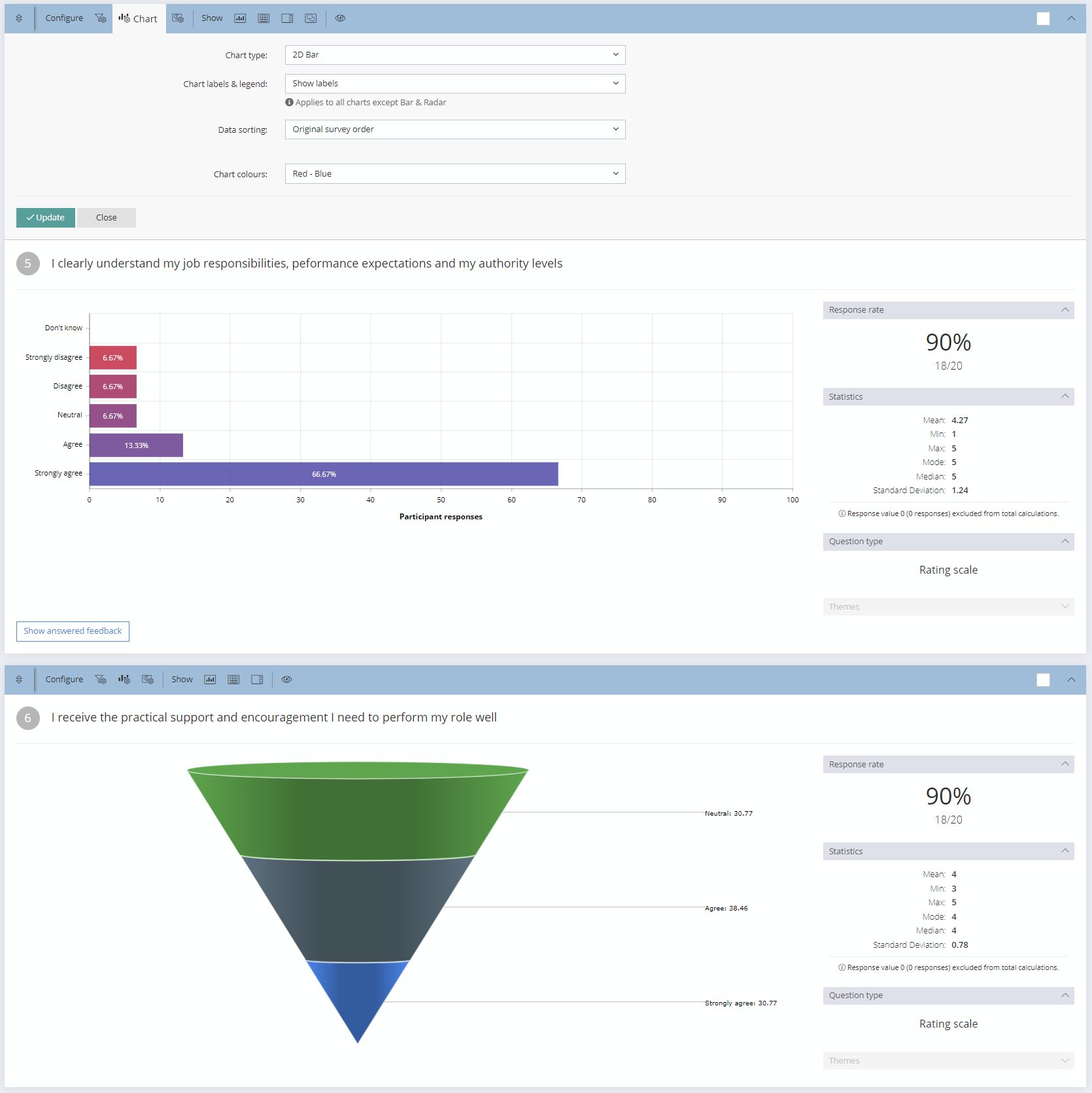 Question Settings (Hide or Show Elements)
Various settings can be managed from the Configure and Show menus above the chart or question responses.
Choose the "Configure attached text" icon to attach messages and rich text above the responses. The rich text will be visible when the survey results are shared. This attached text will move with the question responses when dragging and dropping.
Choose the "Eye" icon to show or hide individual question when the report is shared. Hidden questions turn to a grey colour.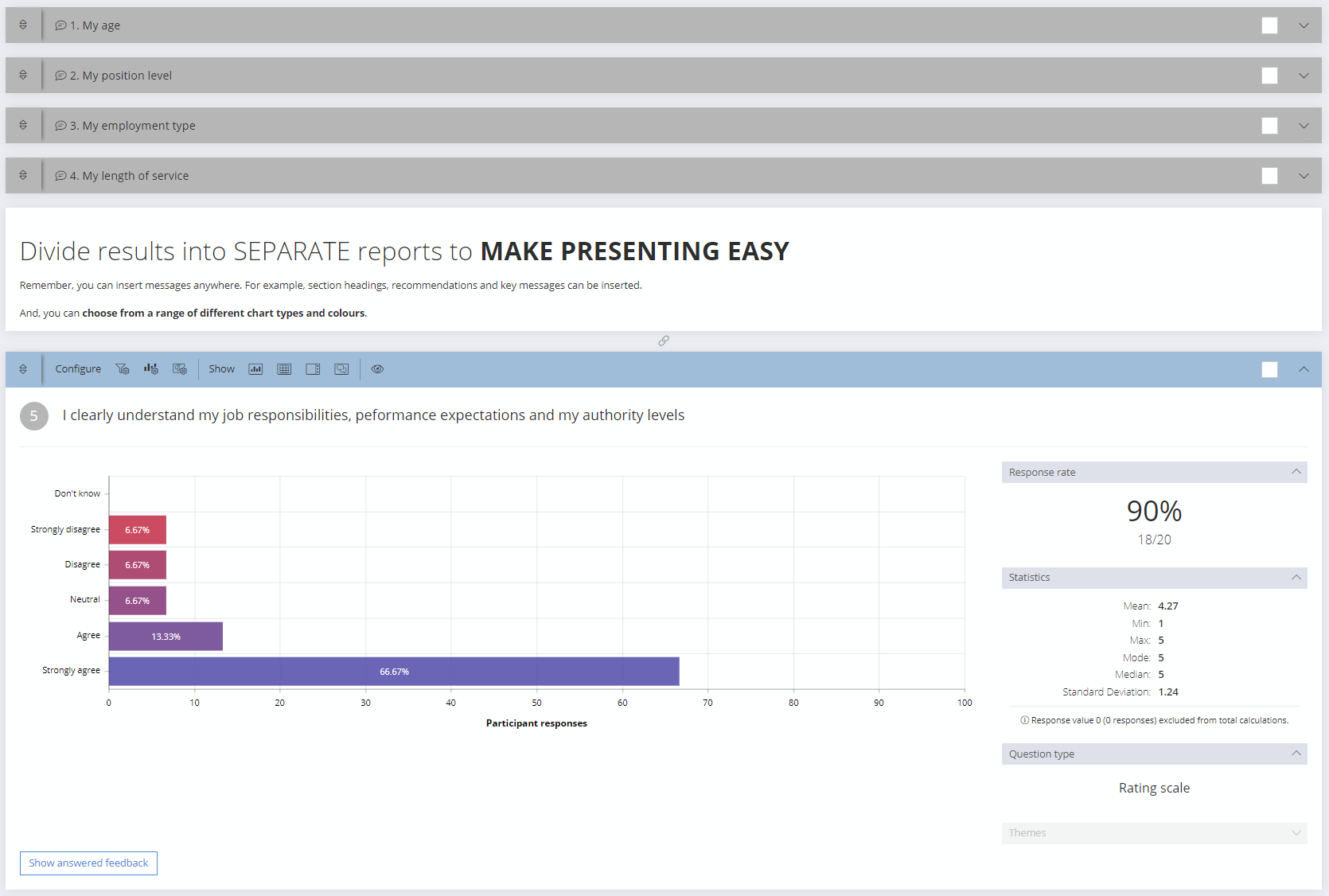 Side panel elements, with response rate, statistics, question type and question theme, can be hidden individually. The whole side panel can also be hidden from the Show menu.
A data table is hidden by default but can be displayed by choosing the Data Table Icon.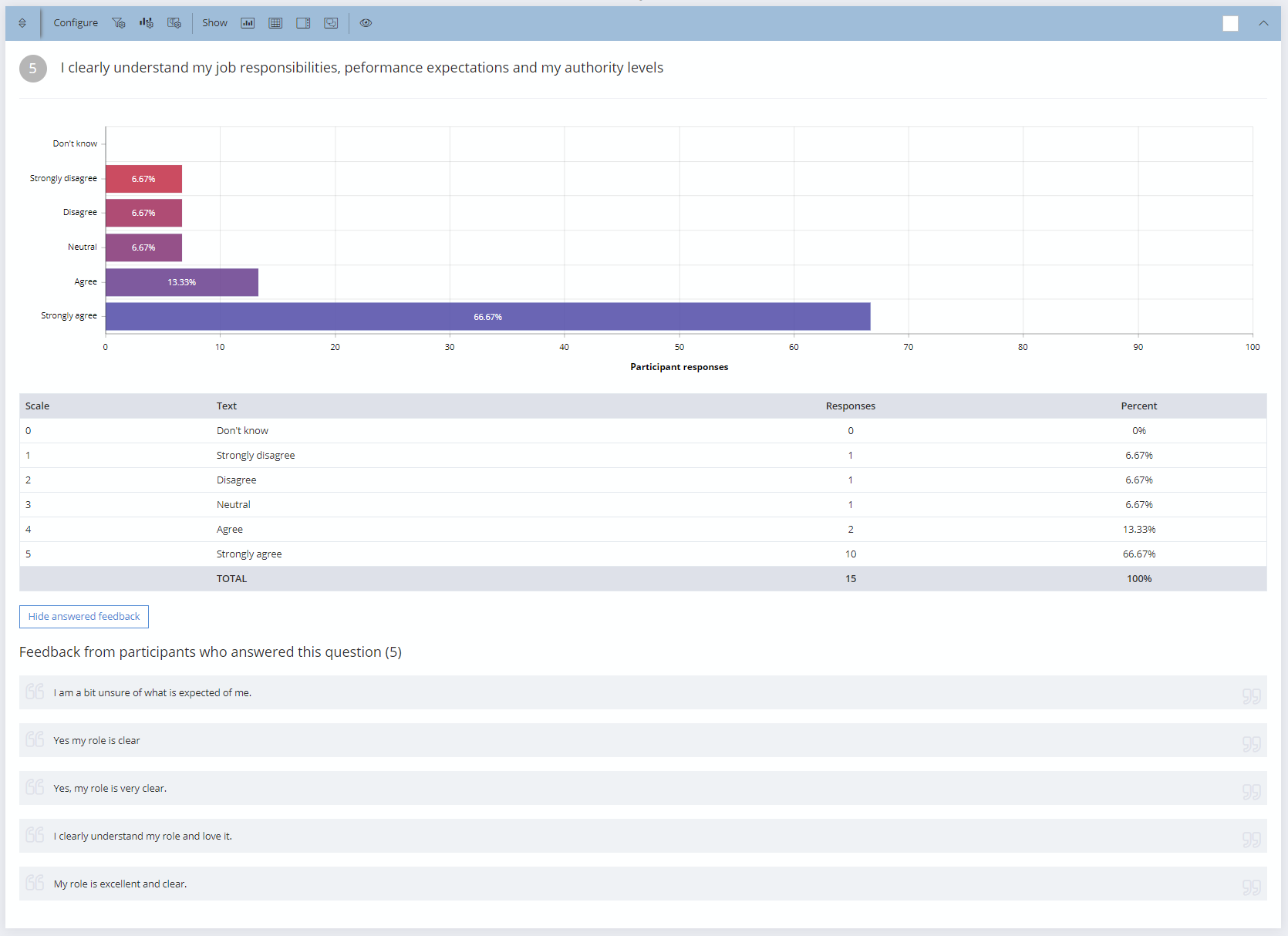 Setting Defaults
Defaults can be set for what is displayed and also for the chart options. Defaults can be set for all questions and for selected questions. There is a select option in the panel for individual questions.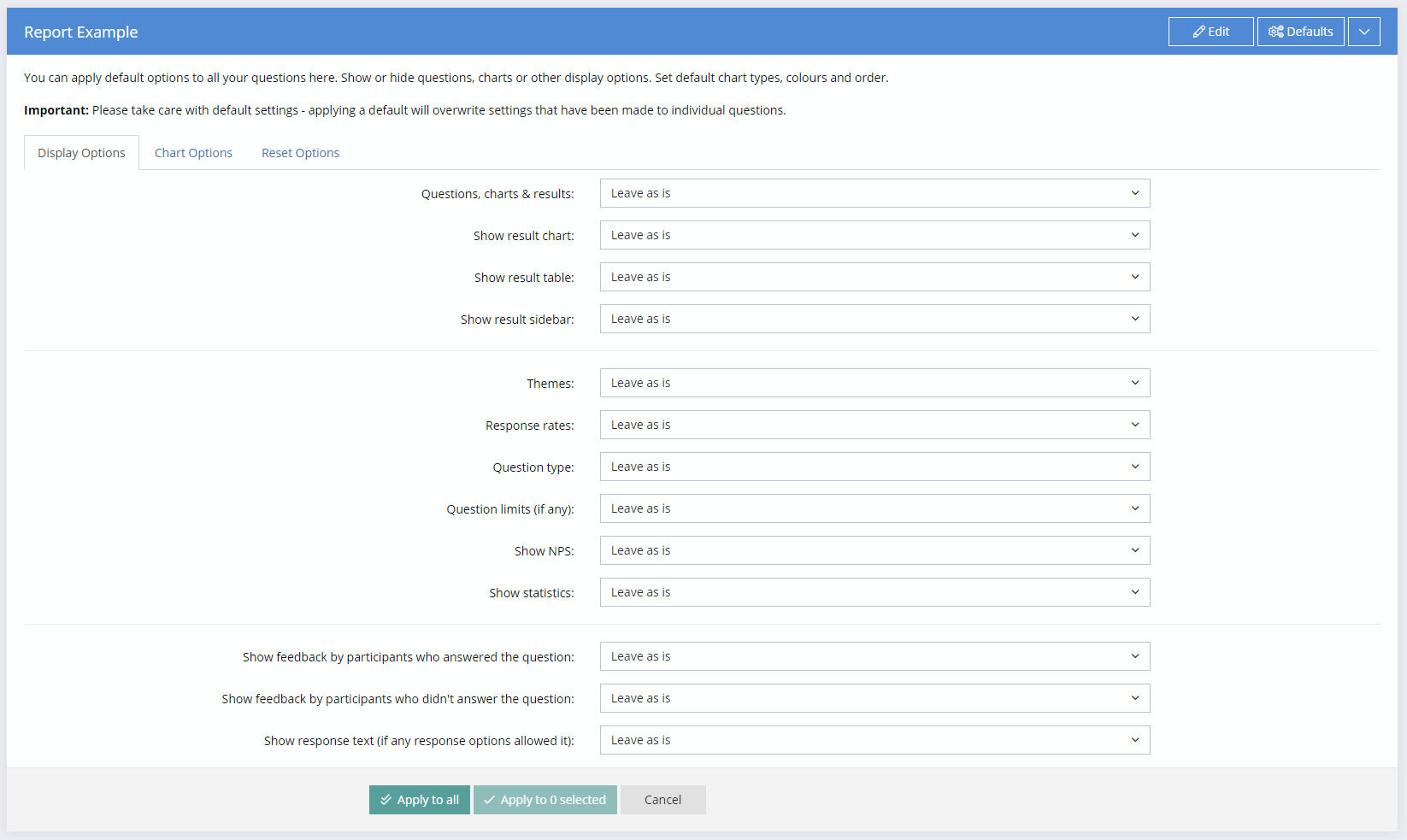 Print or Exporting Reports
Survey results can be printed from the Reports Menu. There is a Print Button alongside each report. There is also a Print Button in the top right menu when editing a report.
Print will bring up a print version of the survey results which can be either printed or saved as a pdf. Most browsers have advanced settings to make adjustments depending on the layout of the report being printed.
You can export the data contained in a report in CSV format. To do so, create the report and, while viewing the report, click the Export button on the toolbar.

On the export screen, you will be able to select a number of options:
Anonymise completed participants
This will allow you to remove any participant names & email addresses from those who have completed the survey. Please note that this option is only available to users with an Administrator level.
Export all questions
If you don't wish to export all of the question data, you may select which questions are included in your export.
Once you have selected the desired options, click the Export button at the bottom. The CSV file will be automatically downloaded by your browser.
Net Promoter Score – Automatic score calculation and a Gauge in reports
The Net Promoter Score now calculates automatically for all questions with a rating scale ranging from 0 to 10. A Gauge with a scale from -100 to +100 will show for NPS questions in reports.
Additionally, reports can be filtered by selected dates, meaning NPS can be measured and reported over time to allow comparison of performance between time periods.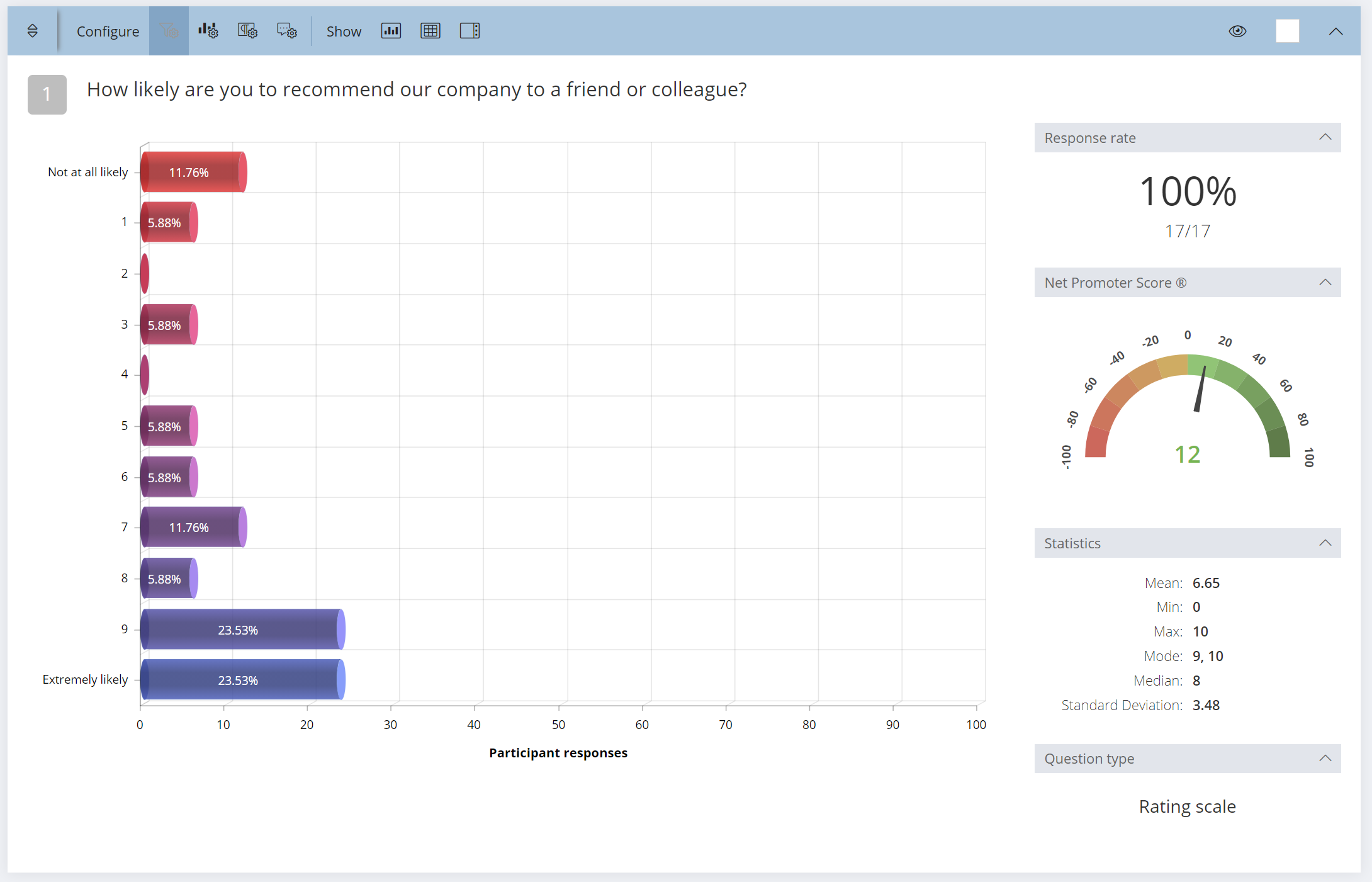 Free Text Question Options (including Word Cloud)
There is a range of configuration and presentation options for Free Text questions.
A Word Cloud can be displayed by selecting the Word Cloud Icon alongside the Show menu. Word clouds are not shown by default. Some common words (a, it, and, so, i, he, she, you, your, but, etc.) are excluded by default. Additional words can be filtered out of the word cloud for each question.
The Free Text comments can be shown or hidden and the layout can be set to various sizes.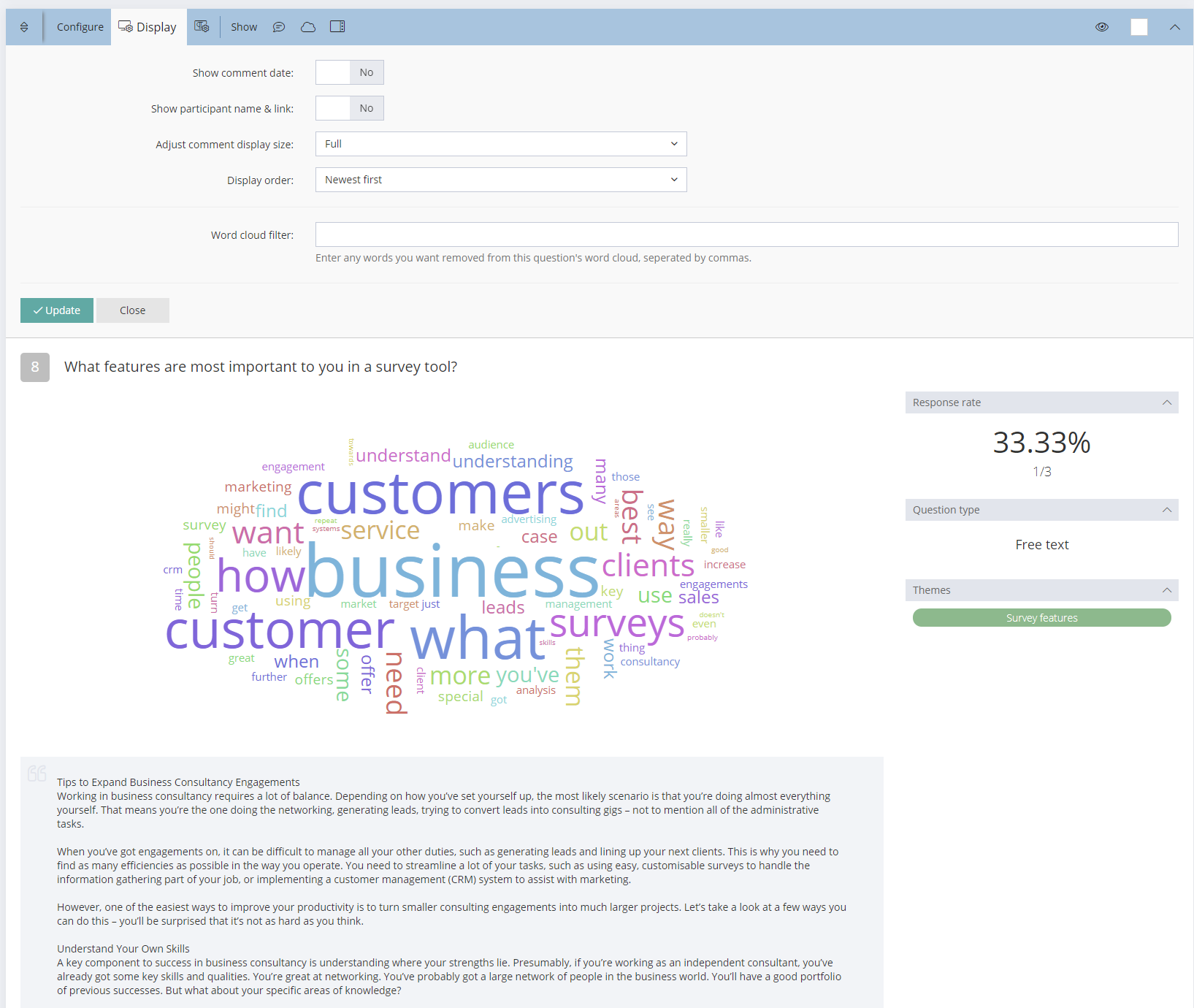 Did this answer your question?