Our latest new features include:
Mail provider integrations and mail sending options
Advanced accessibility support for survey respondents with a disability and to comply with WCAG 2.1 & 2.2 guidelines
Copying selected parts and elements of a survey template
Assigning Tags when importing via csv
Mail Provider Integrations
Spark Chart has built in mail support to let you quickly & easily send survey invitations and reminders.By default, mail sent from Spark Chart will originate from a default "noreply" address, with the sender name set to Spark Chart Surveys.
Now you can also do so from your own favourite mail provider!
While this gives you more capacity for sending large amounts of mail from the system, the biggest benefit is you can now send mail from your own domains (based on the configuration in your mail provider).
The following mail providers are now supported.
Amazon AWS Simple Email Service
MailChimp Transactional (Mandrill)
Mailgun
Mailjet
MessageBird (formerly SparkPost)
Postmark
SendGrid
In addition, you can also use your own SMTP (Simple Mail Transfer Protocol) mail server to send the mail. Many of the providers above support sending mail via SMTP, but you can also configure your own.
To enable any of the above, click your user avatar in the top right and select Integrations. Click on your favourite provider and enter the details as defined within that provider's own web site. You can easily send a test email to check that it is all working. You can configure more than one provider if you like, and you can select which one will be used in the Manage Project > Customise > Mail screen.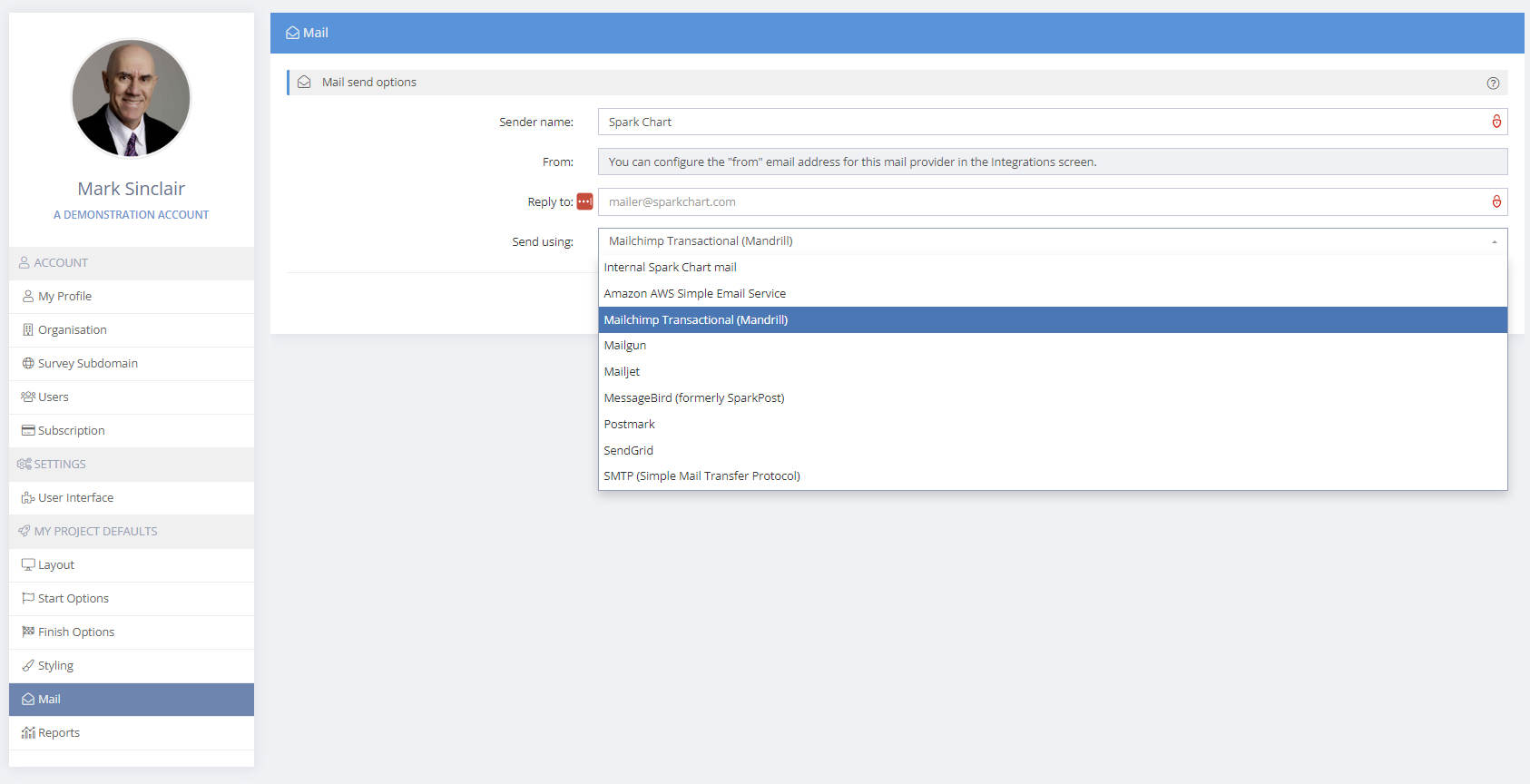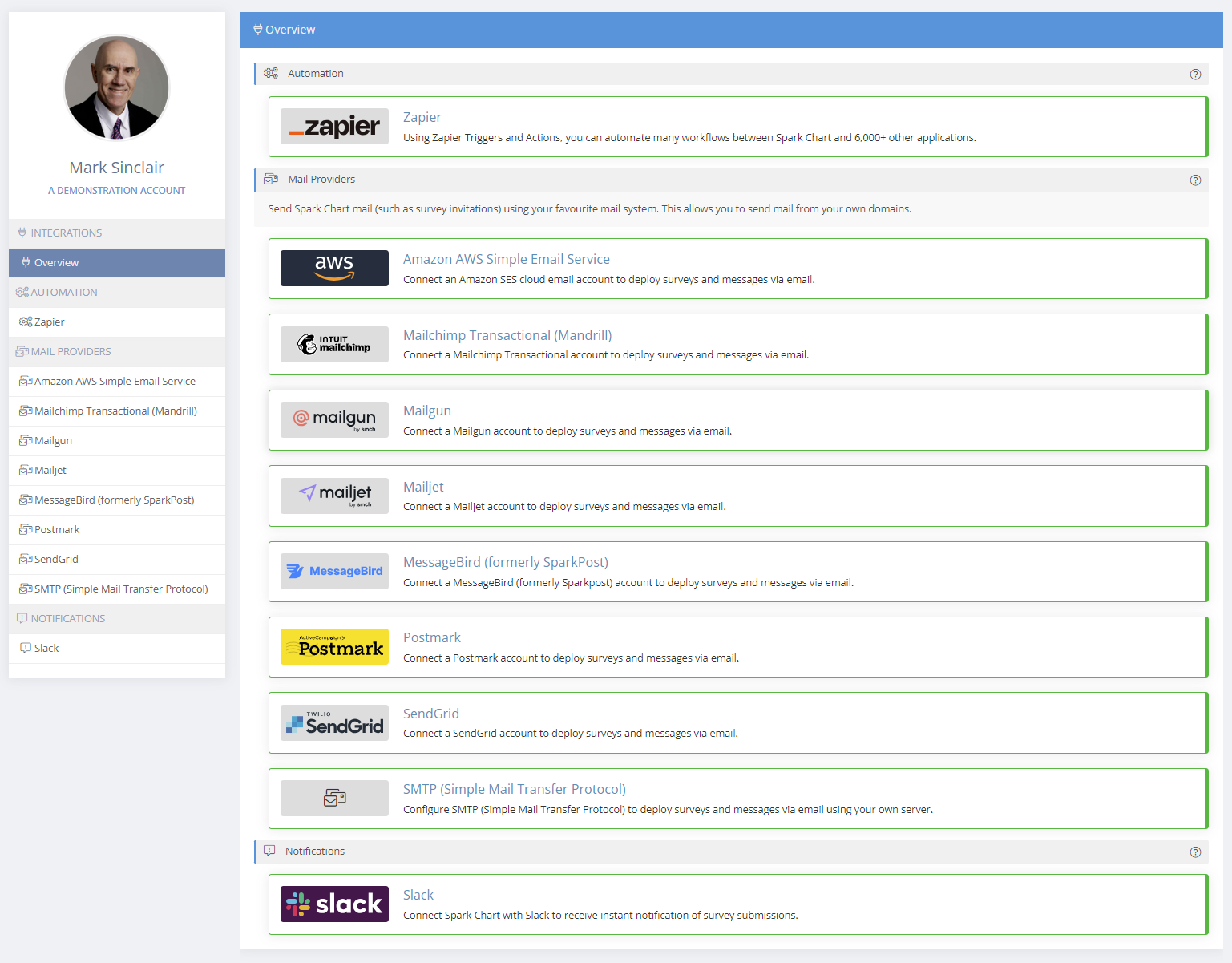 When deploying emails from the Project>Participants, Group Links, and 360 Recipient Links menus in each individual project you can select the mail provider to use.

Advanced Accessibility Support
To make sure that surveys have the widest possible reach we now offer advanced accessibility features in Spark Chart. By integrating the UserWay accessibility widget, survey participants who have any degree of disability will feel much more comfortable and your surveys will comply with WCAG 2.1 & 2.2 guidelines.
Preset accessibility profiles include motor impaired, blind, colour blind, dyslexia, visually impaired, cognitive & learning, seizure & epileptic and ADHD. Specific individual accessibility options include screen reader, contrast, smart contrast, highlight links, bigger text, text spacing, pause animations, dyslexia friendly, cursor size and appearance, page structure, line height, text alignment, dictionary, and saturation. Users have control over the location of the accessibility widget on their screen. Language selection is also available.
The Accessibility feature can be enabled on a project by project basis from the Manage Project > Customise > Accessibility screen. Please note: The advanced accessibility features are not currently available with custom subdomains.

When enabled, an accessibility icon will display in surveys.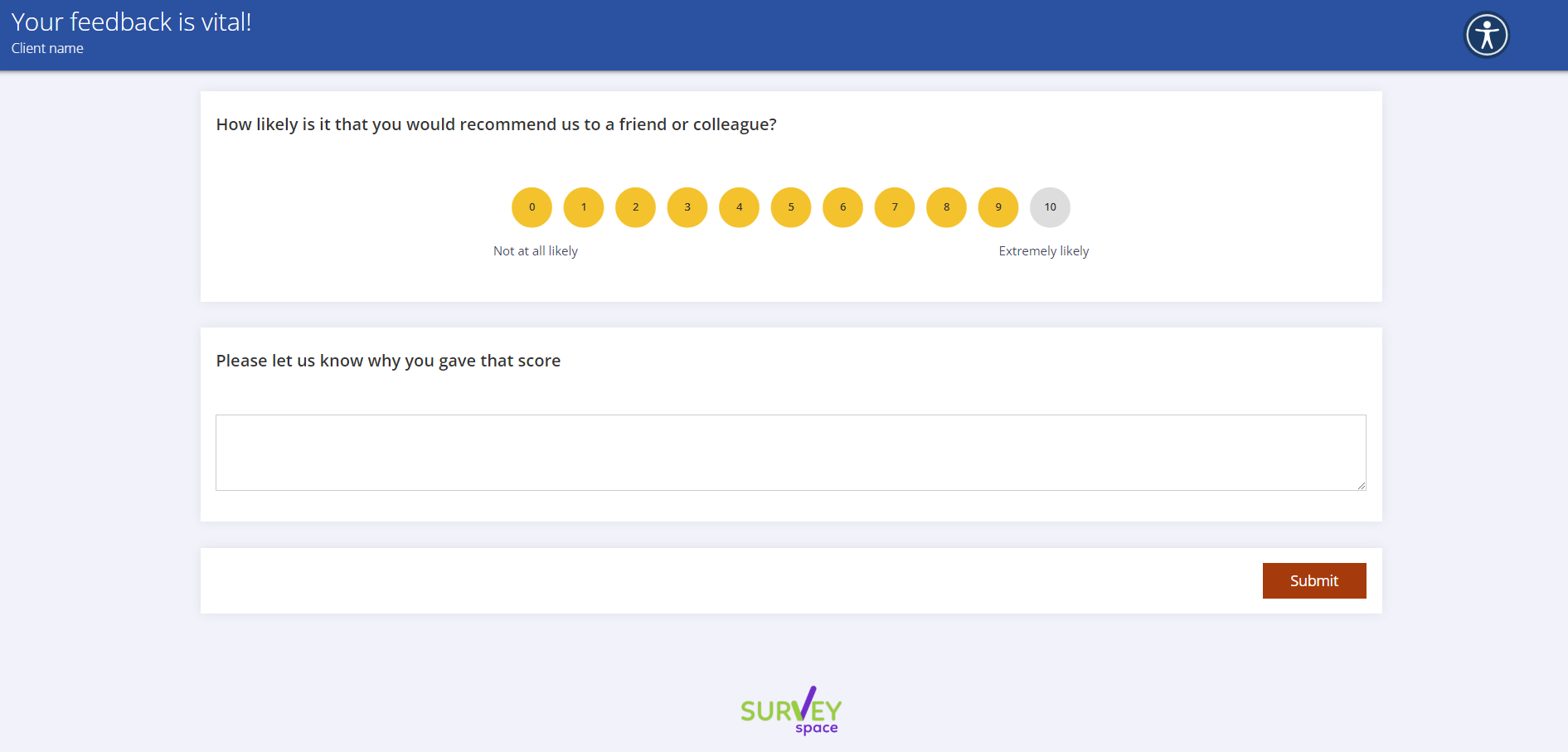 When expanded, the accessibility options will be displayed.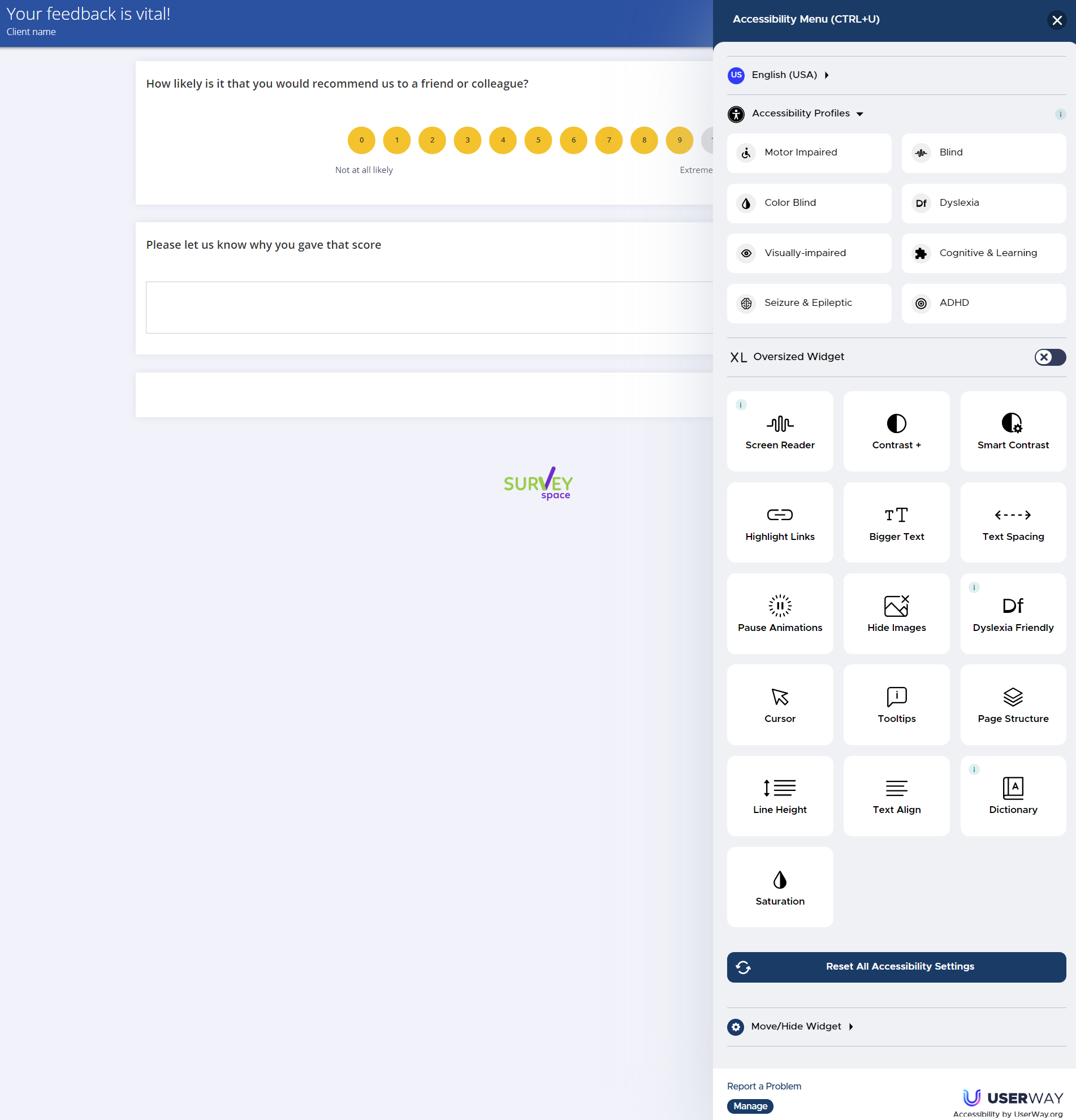 Copying selected parts and elements of a survey template
You can now copy selected questions and parts of a survey templates. To copy a survey template or parts of a survey template, select the Copy button alongside the survey template. Then, edit the name and description, default Rating Scale (optional) and default Answer List (optional).
Choose what to copy:
Entire survey, or
Select questions ...
Then choose "Save". The copy feature is useful to create a modified version of a survey.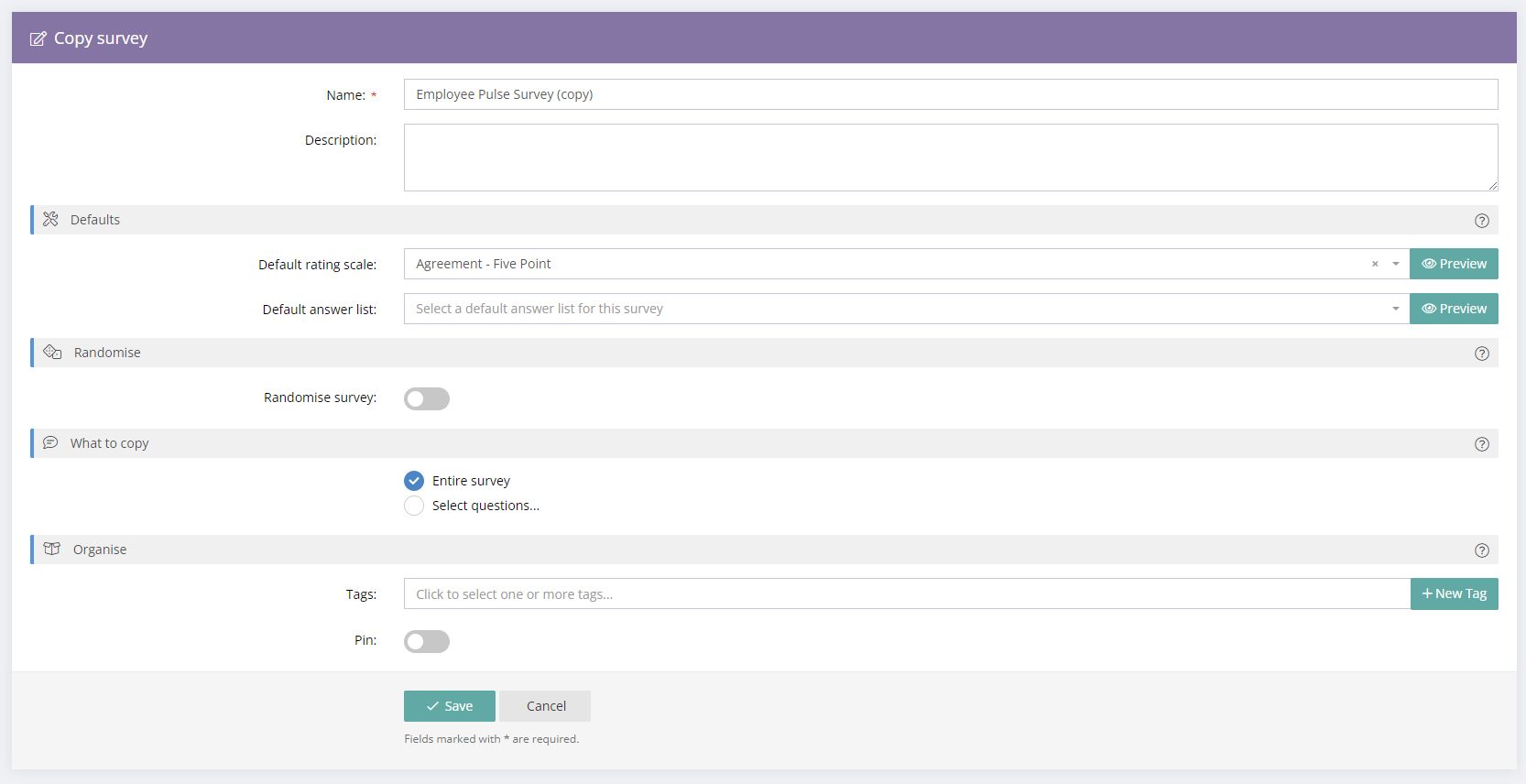 After choosing the "Select questions" option, the survey template elements will appear and can be selected. Conditional logic will also be copied. It is very important to check all logic when copying parts of a survey template as the logic may be affected due to questions and elements not copied.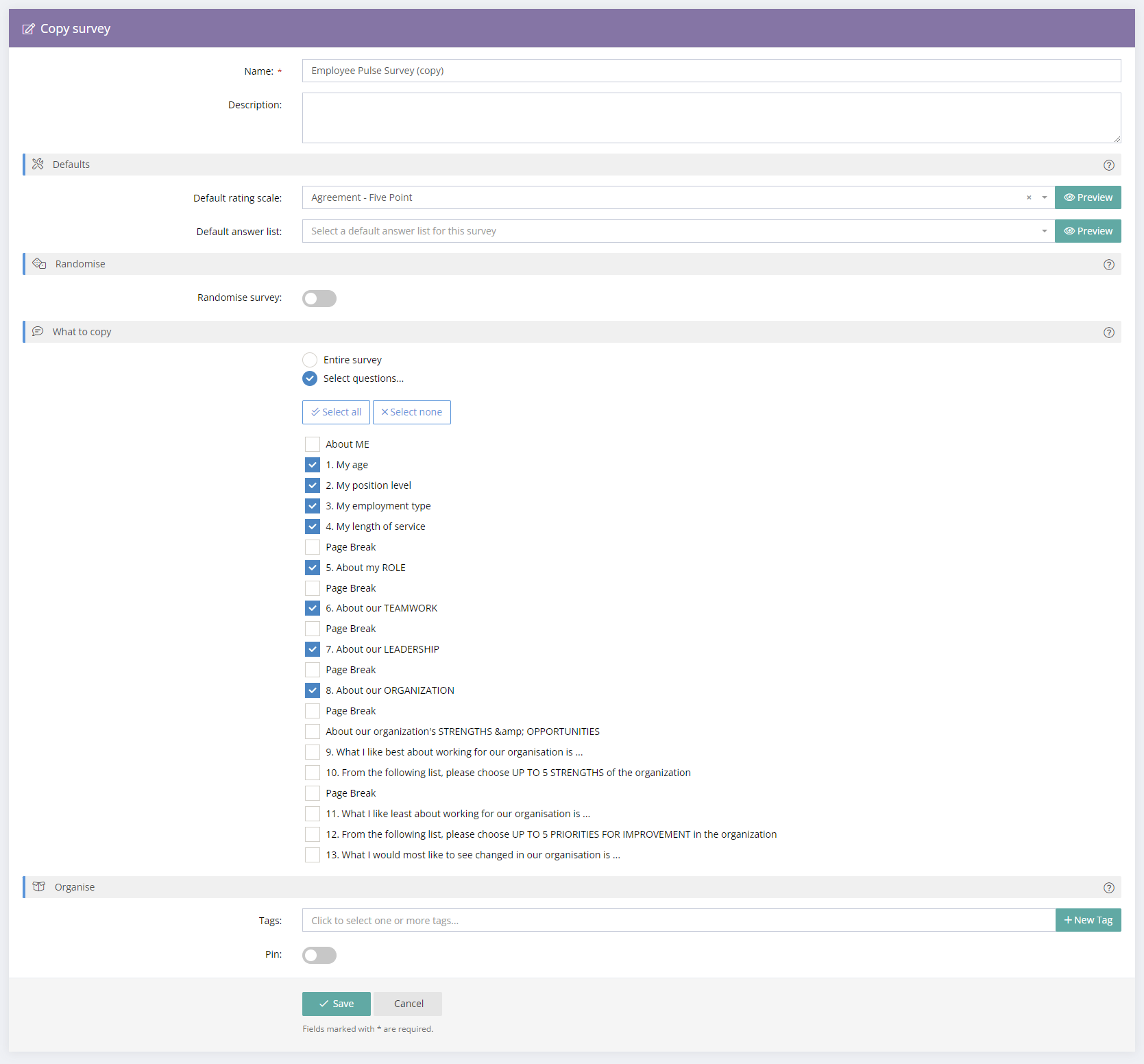 Assigning Tags when importing via csv
Multiple Tags can now be applied when importing Participants, Group Links and 360 Recipient Links into projects via CSV and when importing into Contacts.

Create columns in the csv for Tags. Multiple tag columns can be imported and multiple tags can be assigned.

An overall tag can also be applied to all participants or links imported.